Saturday, 9 December 2023, 10:33 PM
Course:
Guide to Moodle (Guide to Moodle)
Glossary:
Guide to Moodle
E
Email notifications
Adjusting all email notifications from Moodle
Log into Moodle
Hover your cursor over your name in the top right
Preferences> Message
Then you will see a long list of events that Moodle can send email notifications for. Choose which of them you wish (or don't wish) to receive by email, by using the check boxes.
When you are done, click "Save"

About email notifications from Moodle
Moodle is not an email platform. If you wish to email your students, please email them! Moodle does sometimes send email notifications of events that happen on Moodle such as:
a Moodle message has been received while the user is offline
a forum post to a subscribed forum (such as a news forum)
an upcoming event
These notifications sometimes fail, so they are not a reliable way of emailing your students. To email your students, send them an actual email.
Adjusting forum email digest settings
Log into Moodle
Click on your name "You are logged in as Firstname Lastname" in the top right
Email digest type:

No digest (single email per forum post) - you will be emailed a separate email notification for every single forum post to a forum you are subscribed to. This can spam your email if you are subscribed to a busy forum, or many forums.
Complete (daily email with full posts) - you will receive one email per day with all that day's forum posts compiled on it, in full.

Click "Update profile" at the bottom.
Enable Java on your computer
Find the Java Control Panel on Windows
Windows 8 
Use search to find the Control Panel
Press Windows logo key + W to open the Search charm to search settings
OR
Drag the Mouse pointer to the bottom-right corner of the screen, then click on the Search icon.
In the search box enter Java Control Panel
Click on the Java icon to open the Java Control Panel.
Windows XP
Click on the Start button and then click on the Control Panel option.
Double click on the Java icon to open the Java Control Panel.
Find the Java Control Panel on Mac
Launch the Java Control Panel on Mac OS X (10.7.3 and above)
Click on Apple icon on upper left of screen.
Go to System Preferences
Click on the Java icon to access the Java Control Panel.
Change Security settings:
Security tab: Allows you to configure various settings related to security such as grant permissions to content, alert users about site certificates, enable trusted publishers and blacklist revocation checks.
How to Enable Java on your browser
Firefox
Open the Firefox browser or restart it, if it is already running
From the Firefox menu, select Tools, then click the Add-ons option
In the Add-ons Manager window, select Plugins
Click Java (TM) Platform plugin (Windows) or Java Applet Plug-in (Mac OS X) to select it
Check that the option selected is Ask to Activate or Always Activate or on older Firefox versions, click on the Enable button (if the button says Disable, Java is already enabled)
Safari
Click on Safari and select Preferences
Choose the Security option
Select Allow Plug-ins, then click on Manage Website Settings
Click on the Java item, select an option (Ask, Allow or Allow Always) from the pull-down list When visiting other websites
Click Done, then close the Safari Preferences window
Enable JavaScript on browsers
Google Chrome
On the web browser menu click on "Customize and control Google Chrome" and select "Settings".
In the "Settings" section click on "Show advanced settings..."
Under "Privacy" click on "Content settings..."
When the dialog window opens, look for the "JavaScript" section and select "Allow all sites to run JavaScript (recommended)".
Click on the "OK" button to close it.
Close the "Settings" tab.
Internet Explorer
On web browser menu click the "Tools" icon and select "Internet Options".
In the "Internet Options" window select the "Security" tab.
In the "Security" tab click on the "Custom level..." button.
When the "Security Settings - Internet Zone" dialog window opens, look for the "Scripting" section.
In the "Active Scripting" item select "Enable".
When the "Warning!" window pops out asking "Are you sure you want to change the settings for this zone?" select "Yes".
In the "Internet Options" window click on the "OK" button to close it.
Click on the "Refresh" button of the web browser to refresh the page.
Mozilla Firefox
In the address bar, type about:config and press Enter.
Click "I'll be careful, I promise" if a warning message appears.
In the search box, search for javascript.enabled
Toggle the "javascript.enabled" preference (right-click and select "Toggle" or double-click the preference) to change the value from "false" to "true".
Apple Safari
Enrolment - Enrol your students into Moodle
Get the Peoplesoft ID from your Academic Administrator
Ensure the Peoplesoft ID is entered into your Moodle course
Follow the steps below to enter your
Peoplesoft
ID into Moodle:
Enter your Peoplesoft ID into the Peoplesoft ID field
Scroll down and click on the "Save and Display" button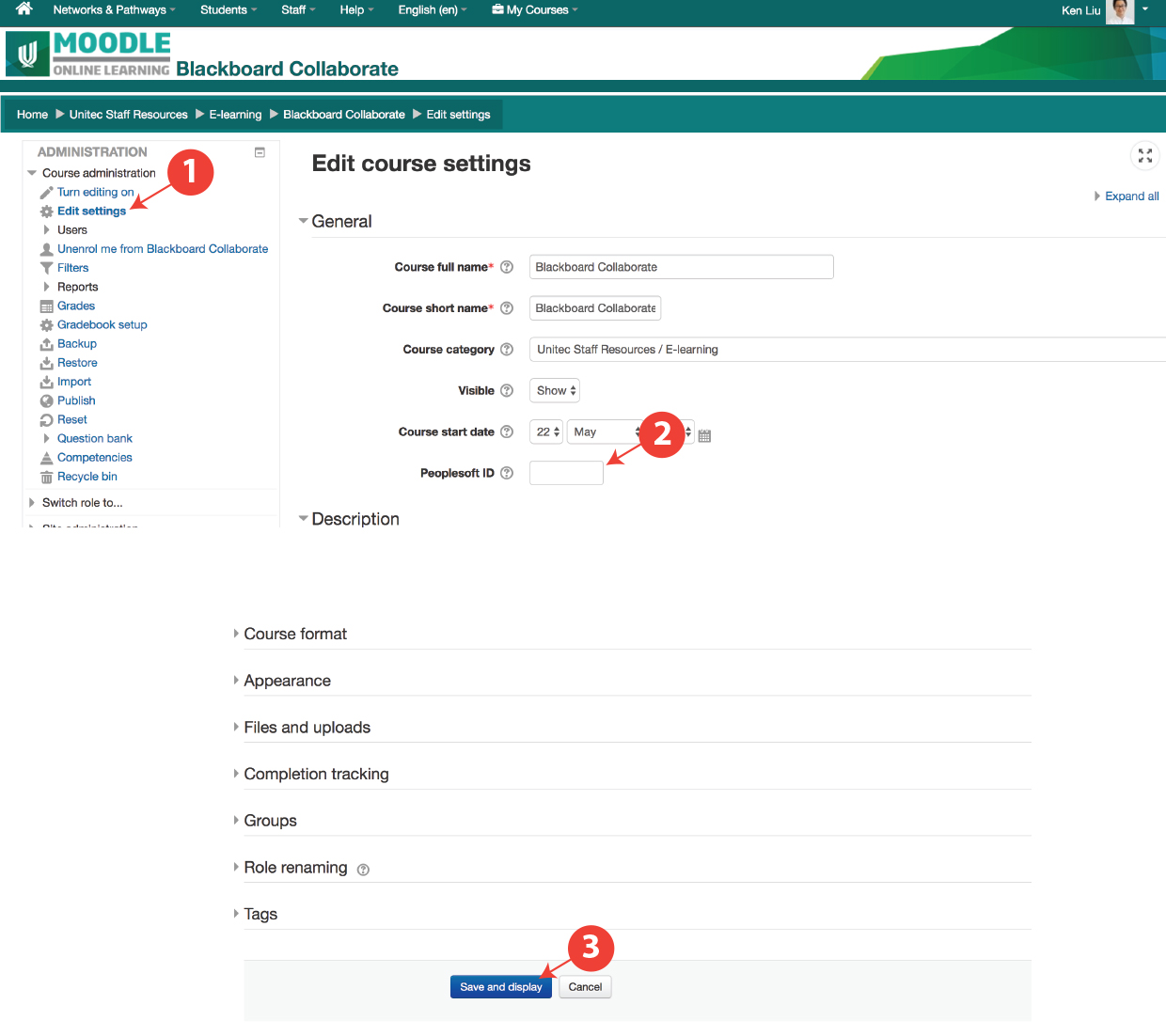 Now your
students
should be
enrol
led in your Moodle
course
in next server cron job runs, you can check it out the next day!
Enrolment - Guest access info for students
How to access a course as "Guest"
Step 1:
Follow the course link which your tutor gave to you, i.e:
moodle.unitec.ac.nz/course/view.php?id=12345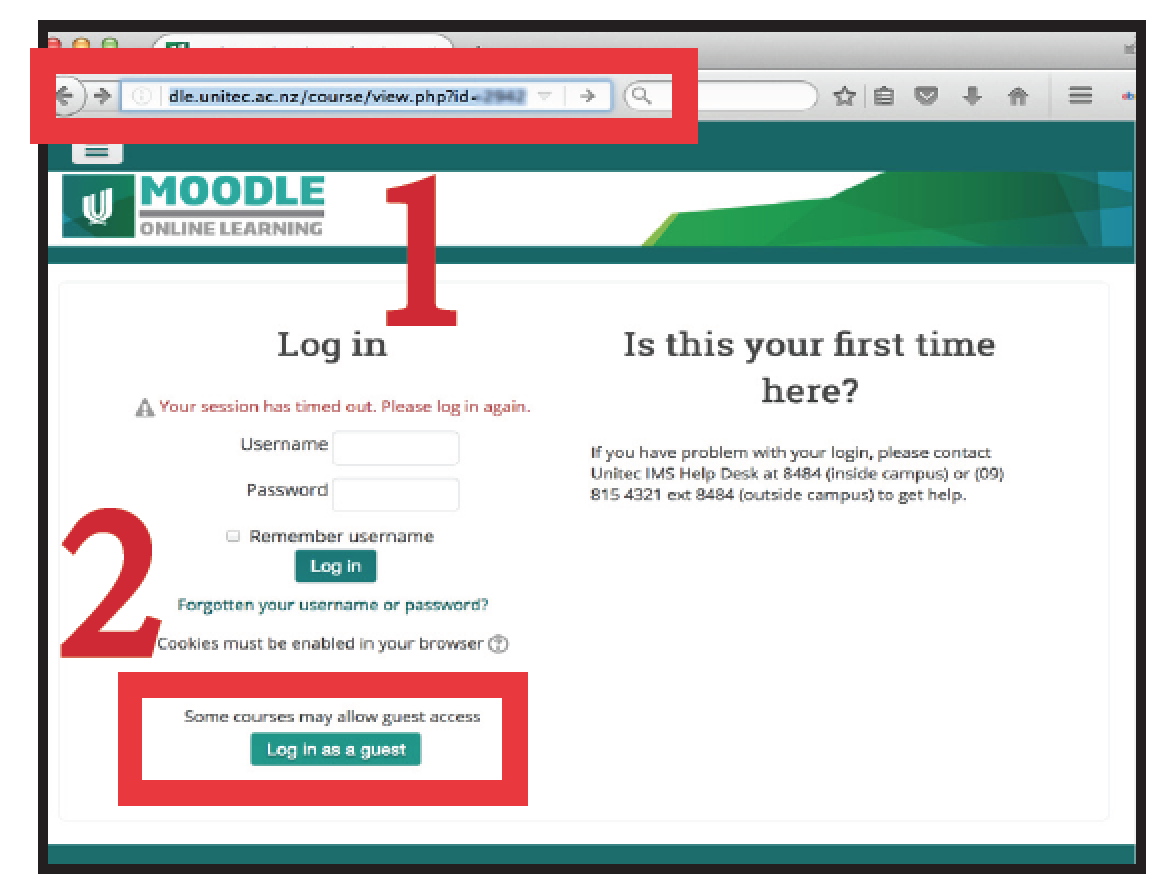 Step 2:
Click on the button: "Log in as a guest"
Step 3:
Enter the password which your tutor gave to you.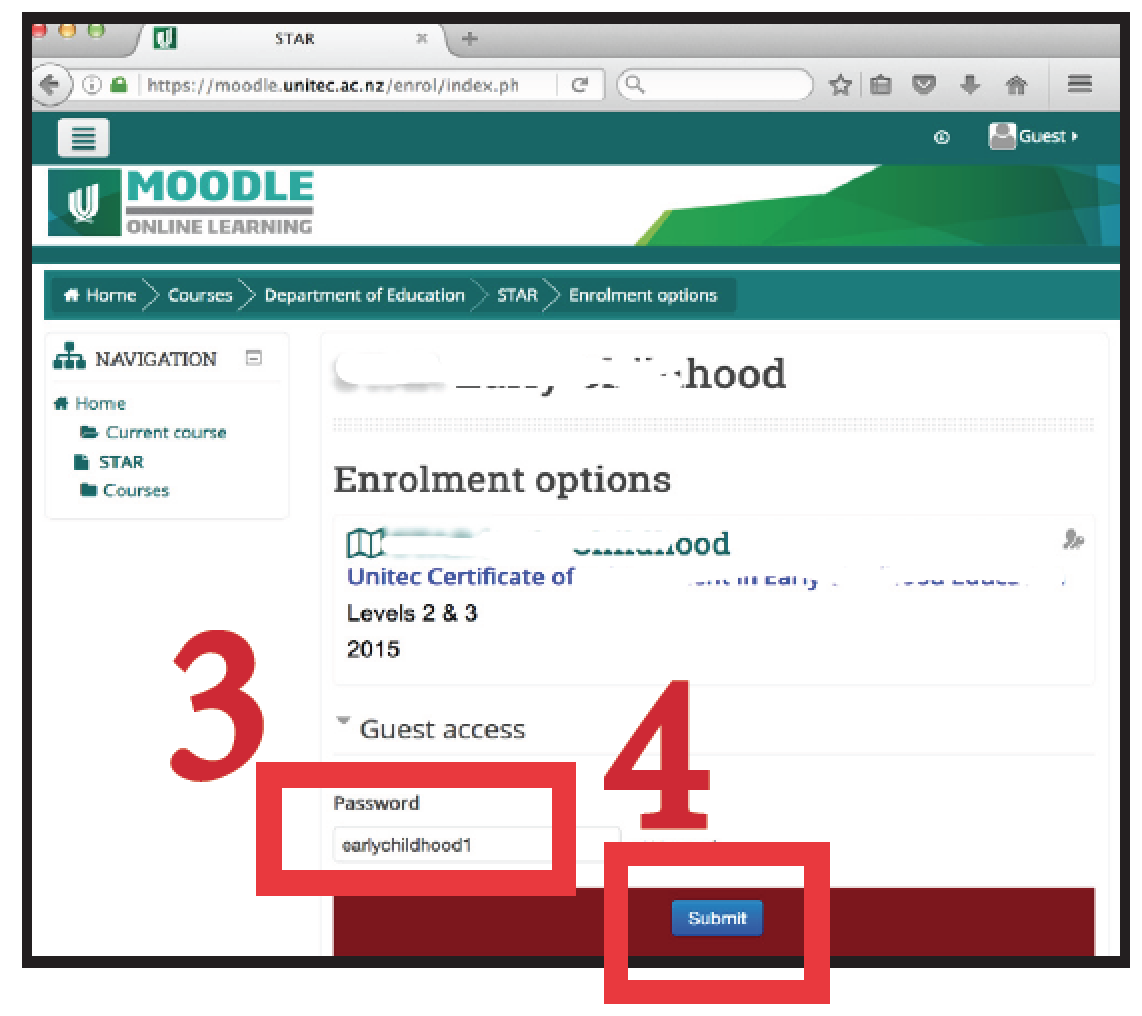 Step 4:

Click on the button: "Submit"
Tip:
It will be convenient if you bookmark this page.
Note:
Don't let others know the password.
Enrolment - Meta enrolment (meta link)
Use this when you want to pull enrolments (student and teacher) from another course into your course.
NB: You must be a 'teacher' or higher level in both courses to set this up.
Instructions: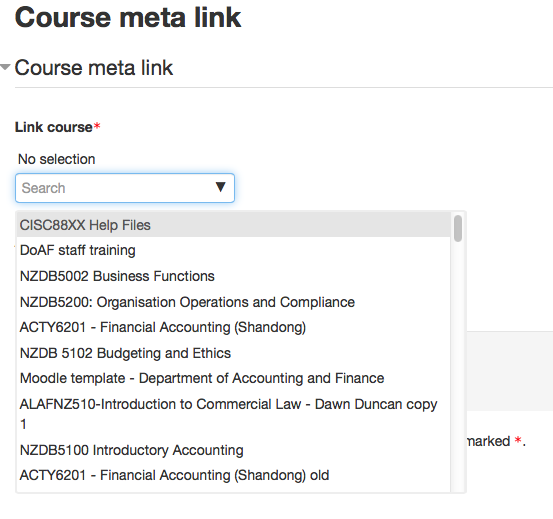 Done! Now all students from the other course will also be enrolled in yours. When they are unenrolled from the other course, they will also be unenrolled from yours.