Saturday, 30 September 2023, 8:32 AM
Course:
Guide to Moodle (Guide to Moodle)
Glossary:
Guide to Moodle
Delete manually enrolled users
Enrolment - Enrol your students into Moodle
Get the Peoplesoft ID from your Academic Administrator
Ensure the Peoplesoft ID is entered into your Moodle course
Follow the steps below to enter your
Peoplesoft
ID into Moodle:
Enter your Peoplesoft ID into the Peoplesoft ID field
Scroll down and click on the "Save and Display" button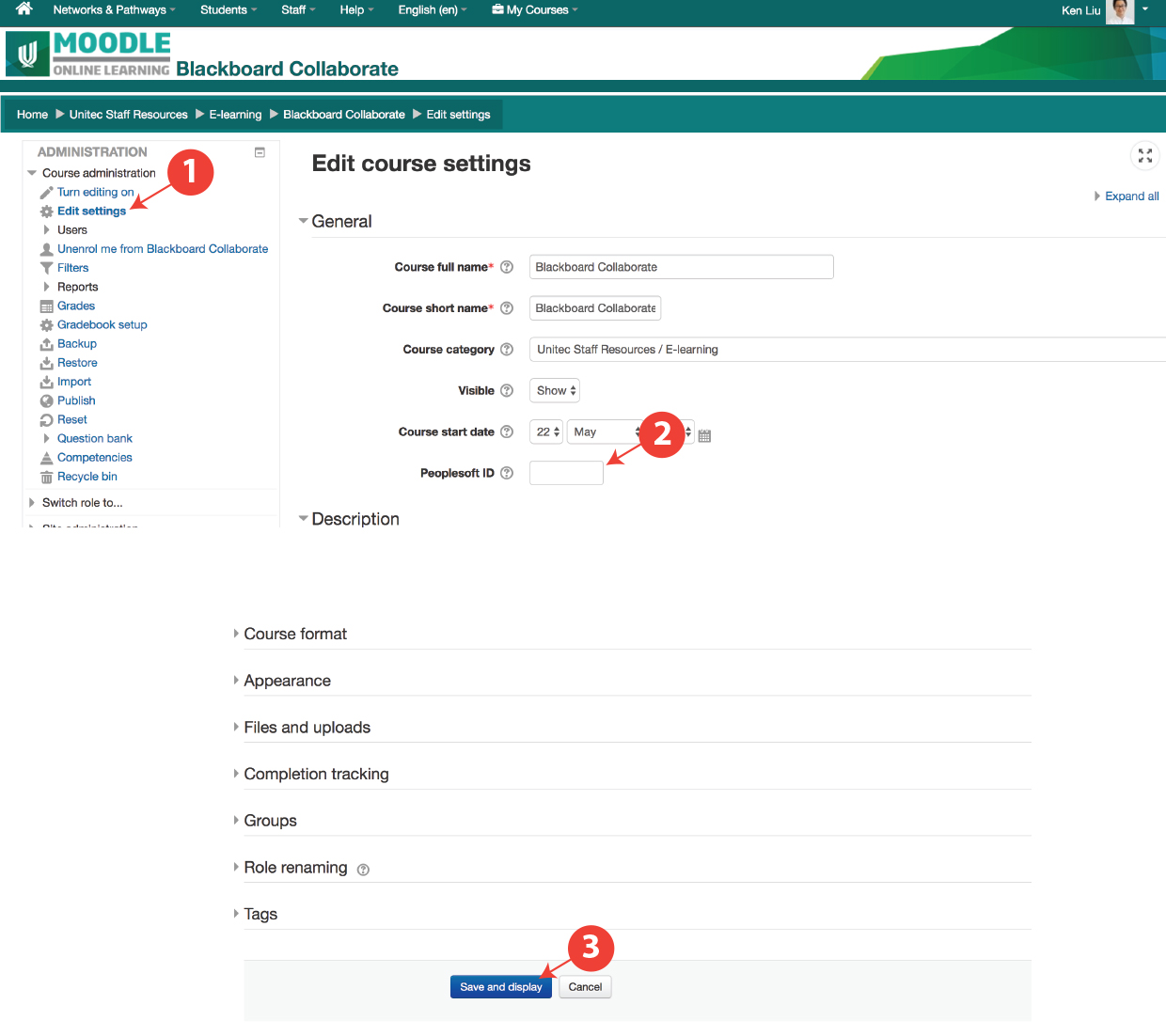 Now your
students
should be
enrol
led in your Moodle
course
in next server cron job runs, you can check it out the next day!
Enrolment - Guest access info for students
How to access a course as "Guest"
Step 1:
Follow the course link which your tutor gave to you, i.e:
moodle.unitec.ac.nz/course/view.php?id=12345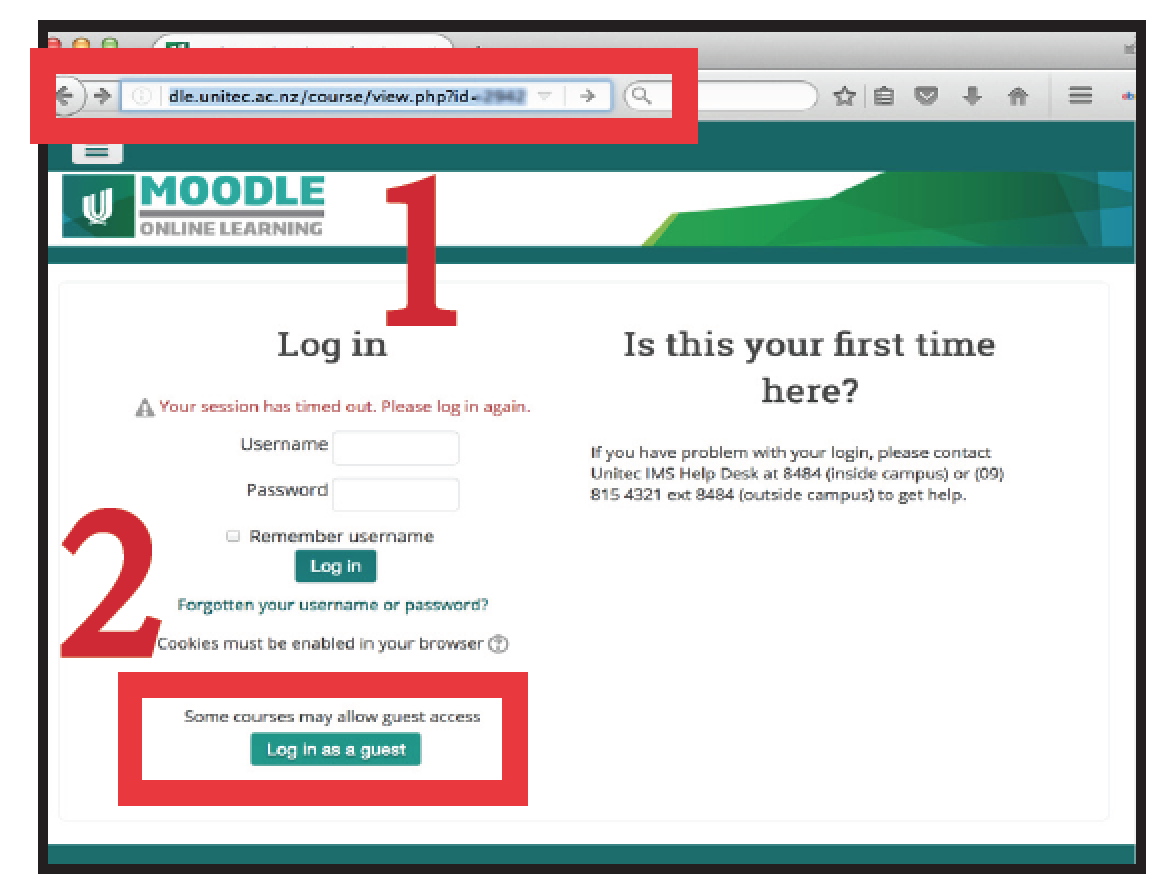 Step 2:
Click on the button: "Log in as a guest"
Step 3:
Enter the password which your tutor gave to you.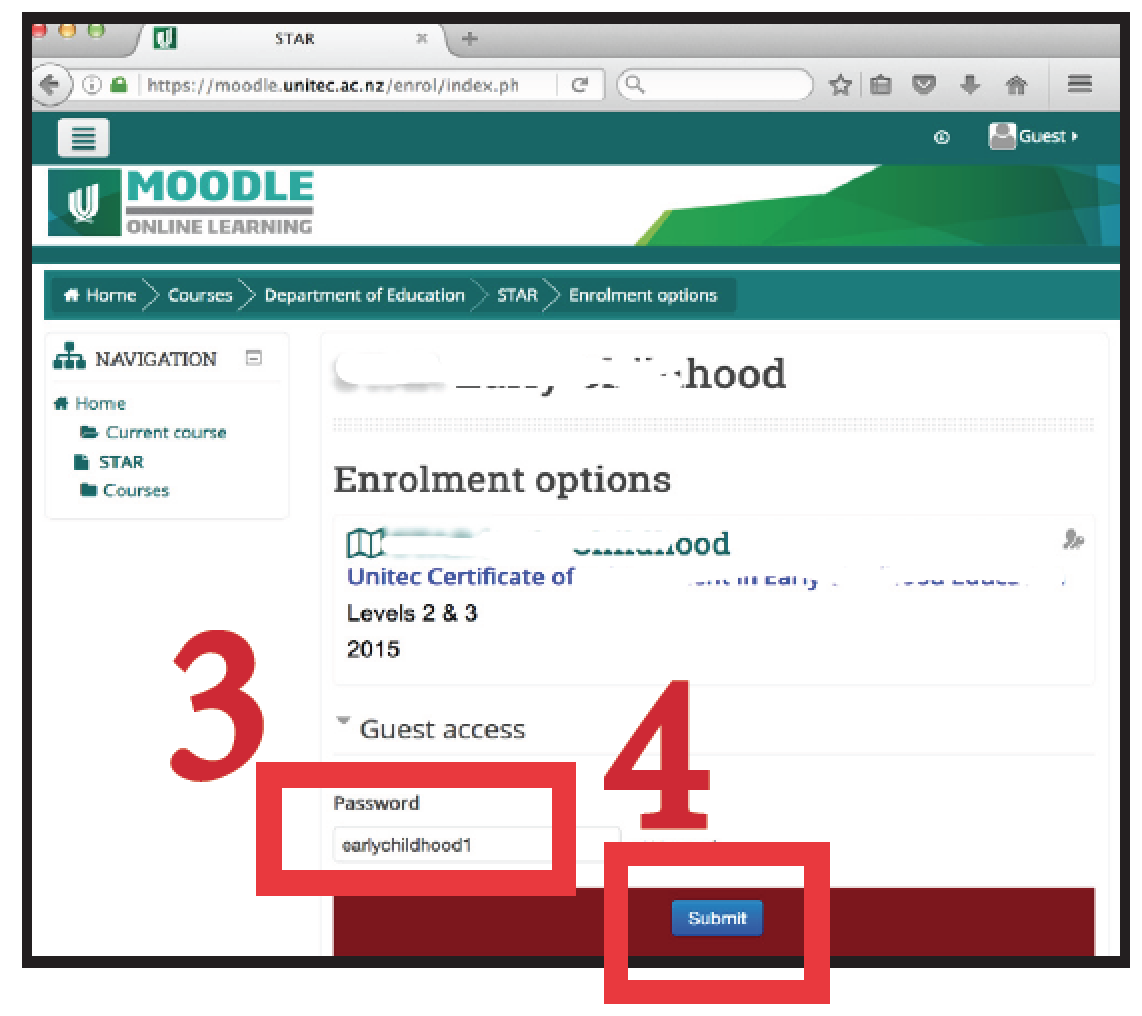 Step 4:

Click on the button: "Submit"
Tip:
It will be convenient if you bookmark this page.
Note:
Don't let others know the password.
Enrolment - Meta enrolment (meta link)
Use this when you want to pull enrolments (student and teacher) from another course into your course.
NB: You must be a 'teacher' or higher level in both courses to set this up.
Instructions: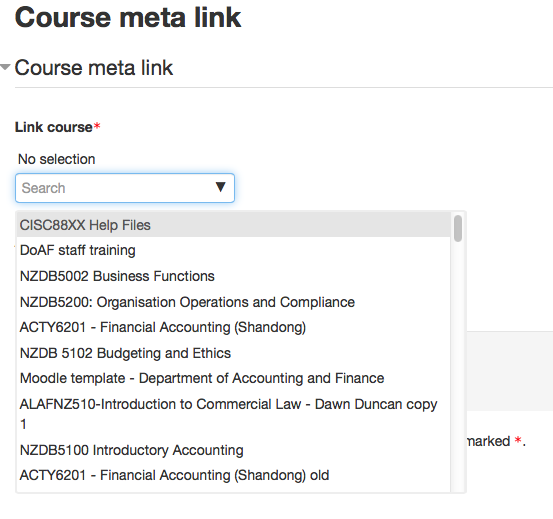 Done! Now all students from the other course will also be enrolled in yours. When they are unenrolled from the other course, they will also be unenrolled from yours.

Enrolment - Programme codes
Here is a list of Unitec programmes with their ID codes and school codes that provide these programmes:

| | | |
| --- | --- | --- |
| PeopleSoft programme code | Programme name | School code |
| BA | Bach Arts | 40LA |
| BAAT | Bach Applied Animal Technology | 40NS |
| BARCH | Bach Architecture | 20AR |
| BAS | Bach Architectural Studies | 20AR |
| BASCI | Bach Applied Science | 40NS |
| BASHB | Bach Applied Science/Human Bio | 40OS |
| BAT | Bach Applied Technology | 30BT |
| BBS | Bach Business | 20AF |
| BCE | Bach Creative Enterprise | 20ID |
| BCONS | Bach Construction | 30CN |
| BCS | Bach Computing Systems | 20CG |
| BDES | Bach Design | 20DE |
| BDVA | Bach Design and Visual Arts | 20DE |
| BEENV | Bach Engineering/Environmental | 30EN |
| BENGT | Bach Engineering Tech (Civil) | 30EN |
| BETMG | Bach Engineering Technology | 30EN |
| BHSD | Bach Health Social Development | 40CH |
| BHSMI | Bach Health Sci/Medical Imagin | 40MI |
| BIC | Bach Communication | 20CO |
| BICHN | Bach Communication (Hons) | 20CO |
| BLA | Bach Landscape Architecture | 20LA |
| BN | Bach Nursing | 40NU |
| BPROD | Bach Product Design | 20DE |
| BPSA | Bach Performing & Screen Arts | 20PS |
| BRM | Bach Resource Managemnt | 40NS |
| BSOCP | Bach Social Practice | 40SP |
| BSP | Bach Social Practice | 40SP |
| BSPT | Bach Sport | 40ST |
| BTECE | Bach Teaching Early Childhd Ed | 40ED |
| CAME | Cert Automotive Mechanical Eng | 30TT |
| CAMGT | Cert Animal Management | 40NS |
| CANWI | Cert Animal Welfare Investgtns | 40NS |
| CATEC | Cert Applied Technology | 30BT |
| CAWI | Cert Animal Care | 40NS |
| CAWIN | Cert Ani Welfare Investigation | 40NS |
| CBAC3 | Cert Bus Admin & Comp L3 | 20AF |
| CBAC4 | Cert Bus Admin & Comp L4 | 20AF |
| CBUSI | Cert Business (Introductory) | 20AF |
| CCINT | Cert Information Technology | 20CG |
| CCMA | Cert Communication & Media Art | 20CO |
| CCOMP | Cert Computing (Level 2) | 20CG |
| CCS | Cert in Computer Servicing | 20CG |
| CCSK | Cert Community Skills | 40CH |
| CCSS | Cert Construction Site Safety | 30BT |
| CDESS | Cert Design | 20DE |
| CDVA | Cert Design and Visual Arts | 20DE |
| CEAL | Cert English Additional Lang | 40LA |
| CECS | Cert Employ & Commun Skills | 40CH |
| CEEE | Cert Electrical Electronic Eng | 30EL |
| CEMSK | Cert Employment Skills | 40CH |
| CENG | Cert English (Level 2) | 40LA |
| CENG3 | Cert English (Level 3) | 40LA |
| CENG4 | Cert English (Level 4) | 40LA |
| CETEC | Cert Electrical & Electronics | 30EL |
| CFS4 | Cert Foundation Studies | 40FS |
| CFSTW | Cert Found Studies L3 Whitinga | 40FS |
| CFSW2 | Cert Found Studies L2 Whitinga | 40FS |
| CHE | Cert Higher Education | 40ED |
| CHGDN | Cert Home Garden Design | 20LA |
| CHSCI | Cert Horticultural Science | SLPSC |
| CHSKL | Cert Horticulture Skills | 40NS |
| CIE4 | Cert Intensive English Level 4 | 40LA |
| CIENG | Cert Intensive English Level 5 | 40LA |
| CLI | Cert Liaison Interpreting | 40LA |
| CLT | Cert Language Teaching | 40LA |
| CMBC2 | Cert M/skill Build Constr | 30BT |
| CMMT | Cert Maori Mentor Training | 40LA |
| CMUSI | Cert Music (Introductory) | 20PS |
| CNAS | Cert Network Admin & Security | 20CG |
| CONT | Contracted Courses | 40FS |
| COP | Certificate of Proficiency | UNITC |
| CPGFT | Cert Plumbing and Gasfitting | 30PG |
| CTCMW | Cert Trad & Contemp Mri Weav | 20DE |
| CTCOM | Cert Technical Communication | 20CO |
| CUP | Cert University Preparation | 40FS |
| DACSE | Dip Applied Computer Systm Eng | 20CG |
| DACTG | Dip Accounting | 20AF |
| DAS | Dip Applied Science | 40NS |
| DATB | Dip Applied Technology Buildg | 30BT |
| DATEC | Dip Applied Technology | 30BT |
| DBS | Dip Business Studies | 20AF |
| DCC | Dip Contemporary Craft | 20DE |
| DCMUS | Dip Contemporary Music | 20PS |
| DCOMP | Doctor of Computing | 20CG |
| DCPHO | Dip Contemporary Photography | 20DE |
| DDESG | Dip Design | 20DE |
| DDESM | Dip Design Media | 20DE |
| DEN | Dip Enrolled Nursing | 40NU |
| DENGA | Dip English (Advanced) | 40LA |
| DENTY | Dip Environ Technology | 30EN |
| DGDA | Dip Graphic Design & Animation | 20DE |
| DID | Dip Applied Interior Design | 20DE |
| DITS | Dip Information Technolgy Supt | 20CG |
| DLD | Dip Landscape Design | 20LA |
| DMFA | Dip Maori Fine Arts | 20DE |
| DMGMK | Dip Management (Marketing) | 20AF |
| DMGMT | Dip Management | 20MA |
| DPDS | Dip Product Design Studies | 20DE |
| DPRAC | Dip Professional Accountancy | 20AF |
| DPTEC | Dip Performance Technology | 20PS |
| DSLM | Dip Sustainable Land Manage | 40NS |
| DSSM | Dip Sport & Fitness Education | 40ST |
| DTLM | Dip Tourism Leadership & Mgmnt | 20MA |
| DTRTI | Dip Te Reo me nga Tikanga | 40LA |
| DVA | Dip Visual Arts | 20DE |
| DVETN | Dip Veterinary Nursing | 40NS |
| GAENG | Sht Crses in Auto Engineering | 30TT |
| GALF | Short Courses in Business | 20MA |
| GCARP | Short Courses in Carpentry | 30BT |
| GCEAL | GCert English Additional Lang | 40LA |
| GCNPM | GCert Not for Profit Managemnt | 40CH |
| GCOMM | Short Courses in Communication | 20CO |
| GCONS | Sht Crs Constructn-Non assess | 30CN |
| GCOST | Sh Crses in Community Studies | 40SP |
| GCPA | GCert Professional Accountancy | 20AF |
| GCPNL | GCert Pacific NGO Ldrshp & Mgt | 40CH |
| GDBIM | GDip Buildg Informtn Modelling | 30CN |
| GDBUS | GDip Business | 20MA |
| GDCE | GDip Creative Enterprise | 20ID |
| GDCMP | GDip Computing | 20CG |
| GDCPM | GDip Constructn Project Mgemnt | 30CN |
| GDDES | GDip Creative Practice | 20DE |
| GDEC | GDip Event Communication | 20CO |
| GDESN | Short Courses in Design | 20DE |
| GDHE | GDip Higher Education | 40ED |
| GDLMD | GDip Leadership Maori Devlpmt | 20MA |
| GDNPM | GDip Not for Profit Mgt | 40CH |
| GDPA | GDip Professional Accountancy | 20AF |
| GEAPL | Short Courses in English | 40LA |
| GEDU | Short Courses in Education | 40ED |
| GENGG | Short Courses in Engineering | 30EN |
| GENRC | Generic Short Courses | UNITC |
| GETEC | Short Crs in Electrotechnology | 30EL |
| GF4U | Free 4 U Computing | 40CH |
| GFOUN | Sht Crses in Foundatn Studie | 40FS |
| GHEAL | Sht Crses in Health Science | 40HS |
| GILAN | Sht Crses in English (Intl) | 40LA |
| GISC | Sht Crses in Business Computg | 20CG |
| GLANG | Sht Crses in Intl Languages | 40LA |
| GLPSC | Short Courses in Horticulture | 40NS |
| GMLC | Sht Crses in Maori Lan&Culture | 40LA |
| GMTEC | Sht Crses in Marine Technology | 30TT |
| GNREL | UNITEC Star crses for Sec Sch | INREL |
| GNURS | Short Courses in Nursing | 40NU |
| GPGAS | Sht Crses in Plumbg & Gasfittg | 30PG |
| GPHOT | Short Courses in Photography | 20DE |
| GPUUK | Short Courses in Maori | 40LA |
| GRESM | Short Courses in Resource Mgmt | 40NS |
| GSAFE | Cert in Growsafe(Introductory) | 40NS |
| GSPN | Short Courses in Special Needs | 40CH |
| GSTUP | STEP UP School Revision Progrm | 40FS |
| MAP | Master Applied Practice | 40ID |
| MARCH | Master Architecture | 20AR |
| MARCP | Master Architecture Professnal | 20AR |
| MBIE | Master Bus Innov & Entrep | 20MA |
| MBUS | Master Business | 20MA |
| MCOMP | Master Computing | 20CG |
| MCP | Master Creative Practice |   |
| MDESN | Master Design | 20DE |
| MDM | Master Design Management | 20DE |
| MED | Master Education | 40ED |
| MEDM | Master Educational Ldrship Mgt | 40ED |
| MHSCI | Master Health Science | 40MI |
| MIC | Master Internatl Communication | 20CO |
| MLA | Master Landscape Architecture | 20LA |
| MOST | Master Osteopathy | 40OS |
| MPA | Master Professional Accountncy | 20AF |
| MPM | Master Project Management | 20MA |
| MSOCP | Master Social Practice | 40SP |
| NCAEE | NCert Motor Ind /Auto Elec Eng | 30TT |
| NCAEN | NCert Motor Ind/Auto Engin | 30TT |
| NCALV | NCert Adult Lit & Num Ed VocWk | 40ED |
| NCAM3 | NCert Mot Ind AutoElec MechEng | 30TT |
| NCAM4 | NCert Mot Ind AutoElec MechEng | 30TT |
| NCBFL | NCert Business First Line Mgt | 20MA |
| NCBSI | NCert in Business Introductory | 20MA |
| NCC | NCert Computing | 20CG |
| NCCAD | NCert Carpentry (Advanced) | 30BT |
| NCCPY | NCert Carpentry | 30BT |
| NCDLG | NCert Drainlaying | 30PG |
| NCDRN | NCert Drainlaying | 30PG |
| NCEA | NCert Ed Admin (Admin Support) | 20CG |
| NCEE2 | NCert Electrical Eng (Level 2) | 30EL |
| NCEE3 | NCert Electrical Eng (Level 3) | 30EL |
| NCEEE | NCert Elec Eng Elec for Reg L4 | 30EL |
| NCESC | NCert Electronic Security | 30EL |
| NCGAS | NCert Gasfitting | 30PG |
| NCJNY | NCert Joinery | 30BT |
| NCMEN | NCert Motor Ind/Ent Auto Trade | 30TT |
| NCMES | NCert Motor Ind - Entry Skills | 30TT |
| NCMHA | NCert Mental Hlth Addictn Supt | 40CH |
| NCPLU | NCert Plumbing | 30PG |
| NCPTG | NCert Painting | 30BT |
| NCRE | NCert Real Estate Salesperson | 20MA |
| NCRET | NCert Retail | 20MA |
| NCRTL | NCert Retail | 20MA |
| NDAT | NDip Architectural Technology | 30CN |
| NDBUS | NDip Business | 20MA |
| NDC | NDip Computing Supt Sftwre Dev | 20CG |
| NDCM | NDip Construction Management | 30CN |
| NDQS | NDip Quantity Surveying | 30CN |
| NDSYG | NDip Surveying | 30EN |
| NZCE2 | NZCert English Language L2 | 40LA |
| NZCE3 | NZCert English Language L3 | 40LA |
| NZCE4 | NZCert English Language L4 | 40LA |
| NZCE5 | NZCert English Language L5 | 40LA |
| NZDB | NZ Dip in Business | 20AF |
| NZDE | NZDip Engineering | 30EN |
| NZIM | NZIM Cert Management | 40TP |
| NZLCM | NZIM Cert Lang Culture & Mgt | 40TP |
| P1COP | Study Abroad COP | UNITC |
| P2COP | Study Abroad COP | UNITC |
| P3COP | Study Abroad COP | UNITC |
| PGCAP | PGCert Applied Practice | 40ID |
| PGCCP | PGCert Creative Practice | 20AD |
| PGCEL | PGCert Educationl Ldrshp & Mgt | 40ED |
| PGCHS | PGCert Health Science | 40MI |
| PGCOP | Postgrad - Cert of Proficiency | UNITC |
| PGCSP | PGCert Social Practice | 40SP |
| PGDAP | PGDip Applied Practice | 40MU |
| PGDBS | PGDip Business | 20MA |
| PGDCG | PGDip Computing | 20CG |
| PGDCN | PGDip Counselling | 40SP |
| PGDCP | PGDip Creative Practice |   |
| PGDDE | PGDip Design Enterprise | 20DE |
| PGDED | PGDip Education | 40ED |
| PGDIC | PGDip Inter Communic | 20CO |
| PGDMG | PGDip Marketing | 20MA |
| PGDMT | PGDip Health Science | 40MI |
| PGDPA | PGDip Professional Accountancy | 20AF |
| PGDSM | PGDip Educational Ldrshp & Mgt | 40ED |
| PGDSP | PGDip Social Practice | 40SP |
| PHD | Doctor of Philosophy | 40ED |
| SACOP | Study Abrd-Cert Of Proficiency | UNITC |
| SACP3 | Cert of Proficiency Internatnl | UNITC |
| SACP5 | Study Abrd-Cert Of Profciency5 | UNITC |
| SACP6 | Study Abrd-Cert of Profciency6 | UNITC |
| SACP7 | Study Abrd-Cert Of Profciency7 | UNITC |
| SSTAR | STAR Secondry School Short Crs | UNITC |
| TPCA | Technology Pathway Cert (Auto) | SAPTI |
| TRANS | Transitional | UNITC |
| VTP | Vocational Training Scheme | UNITC |