Friday, 1 December 2023, 4:22 PM
Course:
Guide to Moodle (Guide to Moodle)
Glossary:
Guide to Moodle
Course settings - Appearance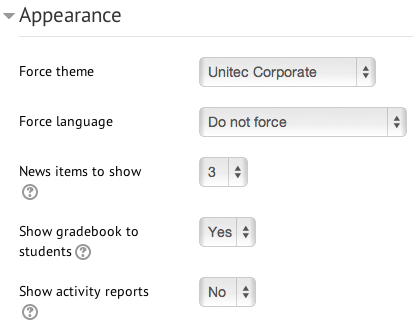 Force theme - If set to "Do not force" then the default theme (which you see on the front page of Moodle) will be used. Otherwise you can choose from a list of themes.
Force language - we recommend leaving this to "Do not force". This way students can choose their own language from the language drop-down menu in the menu bar.
News items to show - if you are using the "recent news" block, then this determines how many items it will display.
Show gradebook to students - determines whether students can see the Moodle gradebook for their own grades.
Show activity reports - determines whether students can see their own activity reports in the course. Teachers can always see activity reports, no matter what this is set to.
Course settings - Completion tracking
Course settings - Course format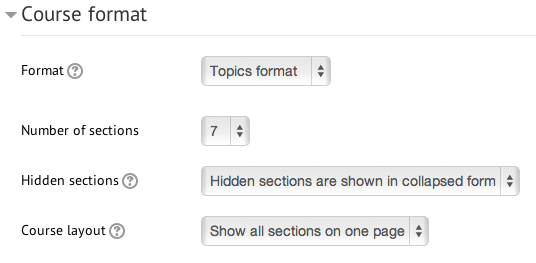 SCORM - only use this if you know what a SCORM package is and want to have your entire course just be this single scorm package.
OneTopic - gives tabs across the top
Number of sections - if you chose Topics or Weekly as your format, this determines the number of section/topic/week boxes you have on your page.
Hidden sections
Hidden sections are shown in collapsed form - sections you hide using the eye will show only the section heading to the students, they cannot see the contents of the section.
Course layout
Show all sections on one page - All your topics show stacked on top of each other, with all unhidden resources visible.
Show one section per page - When students get to the course, they see the summary box, and each topic/week collapsed down to just the heading and anything written in the summary. Clicking any of these headings will take them directly to that topic, with forward and back arrows to get to the next/previous topics.
Course settings - Description
Email notifications
Adjusting all email notifications from Moodle
Log into Moodle
Hover your cursor over your name in the top right
Preferences> Message
Then you will see a long list of events that Moodle can send email notifications for. Choose which of them you wish (or don't wish) to receive by email, by using the check boxes.
When you are done, click "Save"

About email notifications from Moodle
Moodle is not an email platform. If you wish to email your students, please email them! Moodle does sometimes send email notifications of events that happen on Moodle such as:
a Moodle message has been received while the user is offline
a forum post to a subscribed forum (such as a news forum)
an upcoming event
These notifications sometimes fail, so they are not a reliable way of emailing your students. To email your students, send them an actual email.
Adjusting forum email digest settings
Log into Moodle
Click on your name "You are logged in as Firstname Lastname" in the top right
Email digest type:

No digest (single email per forum post) - you will be emailed a separate email notification for every single forum post to a forum you are subscribed to. This can spam your email if you are subscribed to a busy forum, or many forums.
Complete (daily email with full posts) - you will receive one email per day with all that day's forum posts compiled on it, in full.

Click "Update profile" at the bottom.
Enable JavaScript on browsers
Google Chrome
On the web browser menu click on "Customize and control Google Chrome" and select "Settings".
In the "Settings" section click on "Show advanced settings..."
Under "Privacy" click on "Content settings..."
When the dialog window opens, look for the "JavaScript" section and select "Allow all sites to run JavaScript (recommended)".
Click on the "OK" button to close it.
Close the "Settings" tab.
Internet Explorer
On web browser menu click the "Tools" icon and select "Internet Options".
In the "Internet Options" window select the "Security" tab.
In the "Security" tab click on the "Custom level..." button.
When the "Security Settings - Internet Zone" dialog window opens, look for the "Scripting" section.
In the "Active Scripting" item select "Enable".
When the "Warning!" window pops out asking "Are you sure you want to change the settings for this zone?" select "Yes".
In the "Internet Options" window click on the "OK" button to close it.
Click on the "Refresh" button of the web browser to refresh the page.
Mozilla Firefox
In the address bar, type about:config and press Enter.
Click "I'll be careful, I promise" if a warning message appears.
In the search box, search for javascript.enabled
Toggle the "javascript.enabled" preference (right-click and select "Toggle" or double-click the preference) to change the value from "false" to "true".
Apple Safari
Hide my email from other students
If you don't want other students in Moodle to see your email address, you can hide it:
1. Click on your profile photo at the top-right corner, then, click the "Profile" option from the drop-down menu.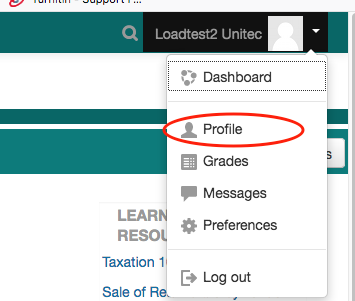 2. Click the "Edit profile" link.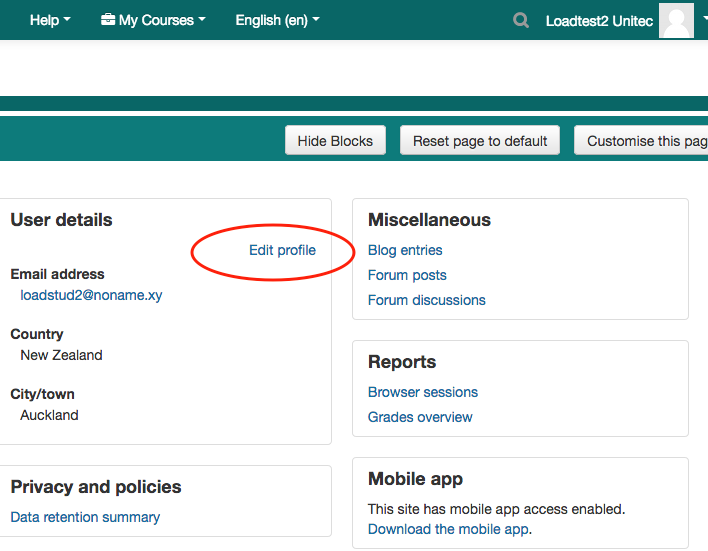 3. Select the "Hide my email address from non-privileged users" option from the "Email display" drop-down menu. (non-privileged users means students, guests, visitors. Privileged users, such as teachers and managers, will always be able to see your email address.)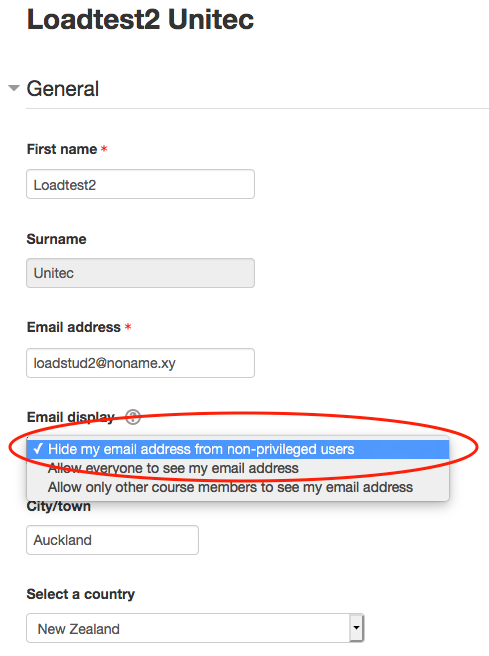 4. Save your changes by scrolling down the page and clicking the "Update profile" button.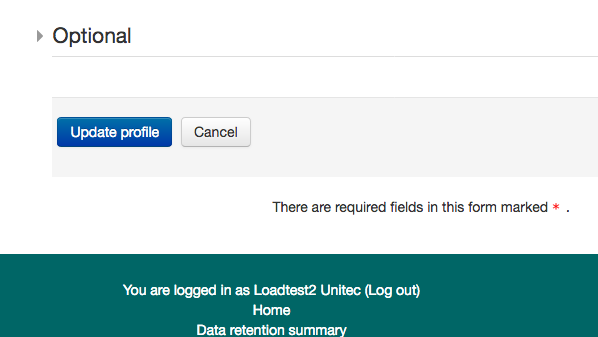 Tame your Google Gmail filter
Why I didn't receive any email from Moodle?
Unfortunately, there's no easy way for you to ensure your emails don't hit the Promotions tab. It's also unclear how Gmail decides whether an email is "promotional" or not.
Below is how to "teach" a gmail account to treat your emails as primary. 

This can be done by clicking on the email (without opening it) & dragging it to the "primary tab". You will then see a message that says:

 "The conversation has been moved to "primary".  Undo
Do this for future messages from "email address x"?Yes"

If you click yes, all future emails from that address will go to the primary tab.

This will certainly work for each individual who does it, I.e.. Each person who does it, their gmail account will always send your emails to the primary tab.