Friday, 9 June 2023, 3:23 AM
Course:
Guide to Moodle (Guide to Moodle)
Glossary:
Guide to Moodle
How to Clear the Cache?
Your internet browser's cache stores certain information (snapshots) of webpages you visit on your computer or mobile device so that they'll load more quickly upon future visits and while navigating through websites that use the same images on multiple pages so that you do not download the same image multiple times.
Occasionally, however your cache can prevent you from seeing updated content, or cause functional problems when stored content conflicts with live content.
You can fix many browser problems simply by clearing your cache.
An easy way to reload a page and bypass the cache (force-reload page) involves using keyboard shortcuts. Generally, the keyboard shortcut [Ctrl] + [F5] will work. But ultimately, this depends on what browser you are using.
Enrolment - Guest access info for students
How to access a course as "Guest"
Step 1:
Follow the course link which your tutor gave to you, i.e:
moodle.unitec.ac.nz/course/view.php?id=12345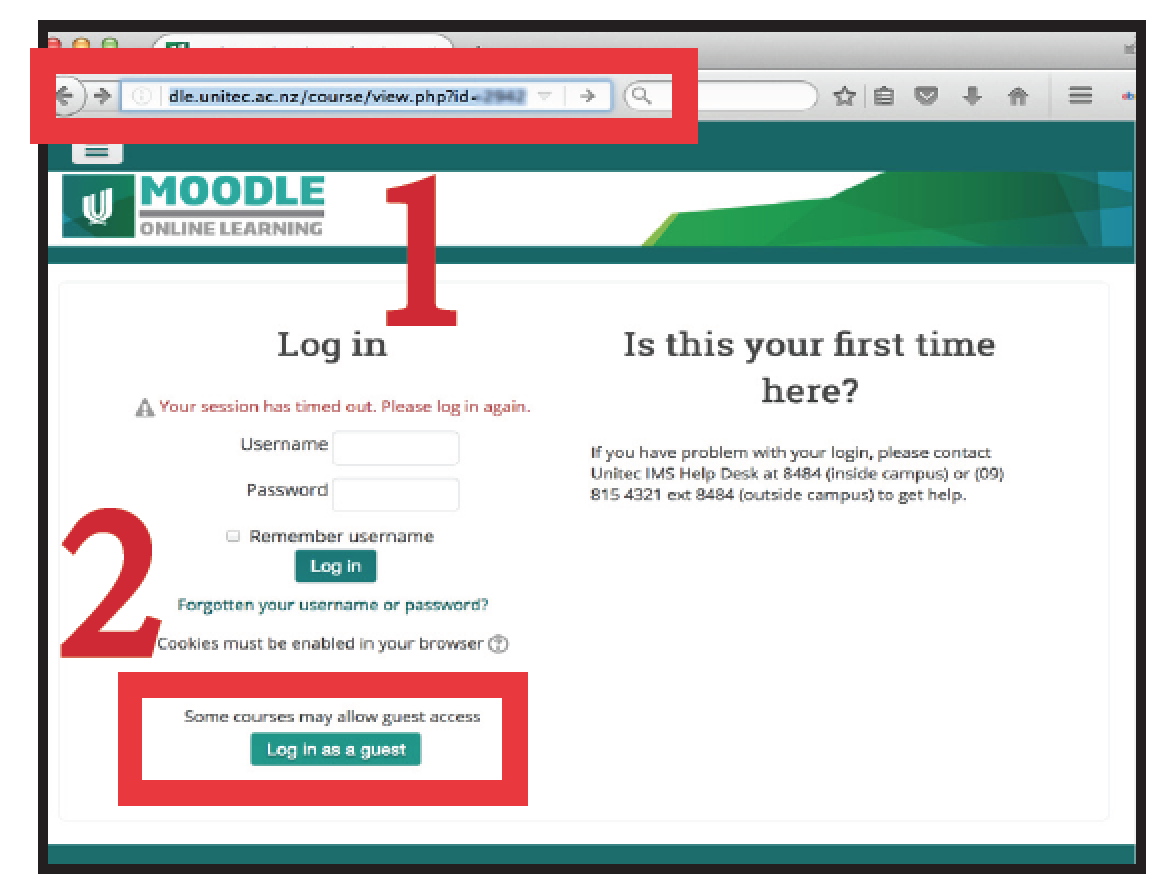 Step 2:
Click on the button: "Log in as a guest"
Step 3:
Enter the password which your tutor gave to you.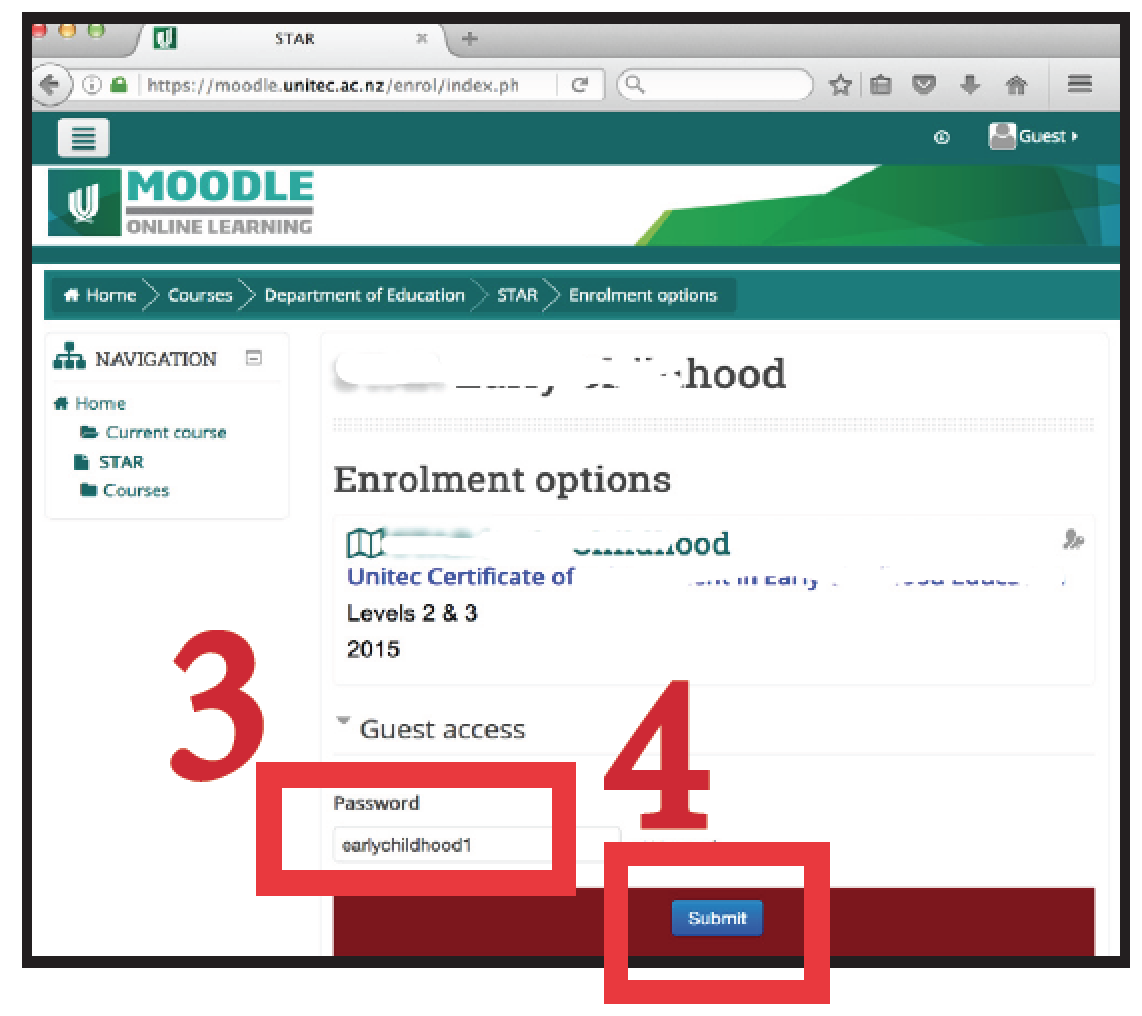 Step 4:

Click on the button: "Submit"
Tip:
It will be convenient if you bookmark this page.
Note:
Don't let others know the password.
Delete manually enrolled users
Enrolment - Enrol your students into Moodle
Get the Peoplesoft ID from your Academic Administrator
Ensure the Peoplesoft ID is entered into your Moodle course
Follow the steps below to enter your
Peoplesoft
ID into Moodle:
Enter your Peoplesoft ID into the Peoplesoft ID field
Scroll down and click on the "Save and Display" button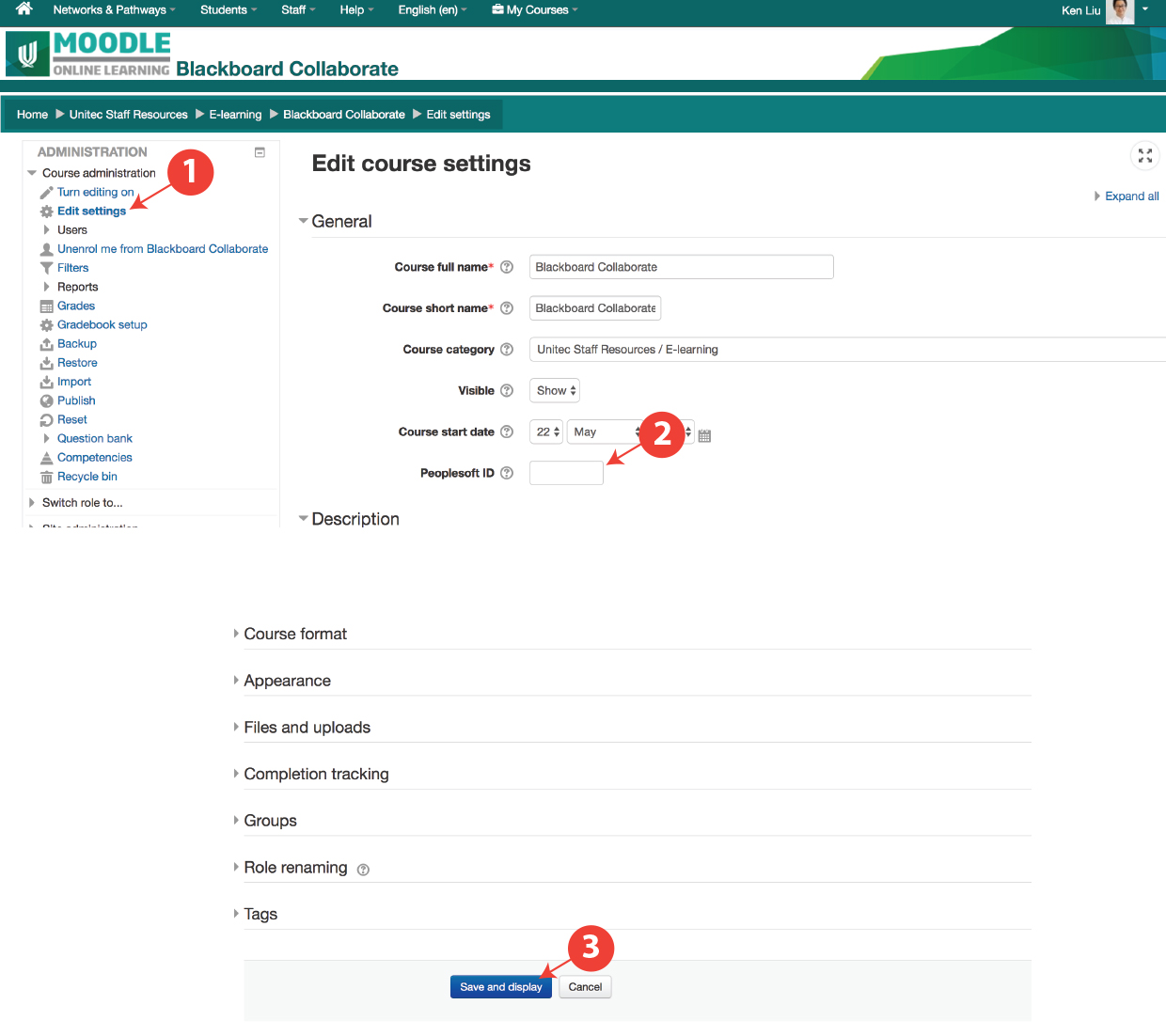 Now your
students
should be
enrol
led in your Moodle
course
in next server cron job runs, you can check it out the next day!
Upload a big file
We cannot recommend moodle for submissions of files of this size, file submission data is stored in the moodle database which is both very expensive and limited. This is in addition to potentially causing problems for the server when uploading and downloading files of this size. 
Our recommendation is that students share their files with you using OneDrive, this is a Microsoft service provided for students by Unitec, unlike moodle it is intended for file storage and sharing.
Go to myportal.unitec.ac.nz in your browser.

Sign in with your Unitec login and password details, students should use smithj07@myunitec.ac.nz format for their login.

Click the blue and white "grid" icon in the top left (also known as the "waffle").

Once OneDrive loads in a new tab, you can drag files into the area where it says "Drag files here to upload".

Here you have a number of options about how to share your file, the easiest (but least secure) is to click "Copy Link" and paste that into an email to your lecturer.


Alternatively click on the drop down and untick the box that says allow editing, then Apply, then "Copy Link".



There are also options for sharing for specific people, which is recommended for more security. But I will let you explore those options once you gain familiarity with sharing using the above steps.
Activities - Turnitin Marking

Here are several videos introducing quick ways to mark Turnitin assignments.