Tuesday, 26 September 2023, 3:44 PM
Course:
Guide to Moodle (Guide to Moodle)
Glossary:
Guide to Moodle
G
Grades - Manual grade override
Sometimes it is desirable to modify a student's grade from what moodle has generated (for example a quiz grade). This is called manual grade override.
Setting these overrides is very easy it's typically just a matter of clicking on the grade while reviewing an activity attempt or submission and typing in a new one.
Clearing these overrides is not so straight forward, it requires going into the gradebook setup and removing it.
Grades - moodle Gradebook setup / Weighted mean of grades
It is important to differentiate between the moodle gradebook found on your moodle course and the Unitec gradebook accessed through The Nest. These two systems are not the same and are not linked together.
It is however possible to make the moodle gradebook in your moodle course correctly align with the weightings for the various assessment activities. This will provide better feedback for your students about their current progress and make your final input of grades into the Unitec gradebook much simpler.
Grades - User report (analytics)
Teachers can see individual user reports for students.
Students always only see the individual user report.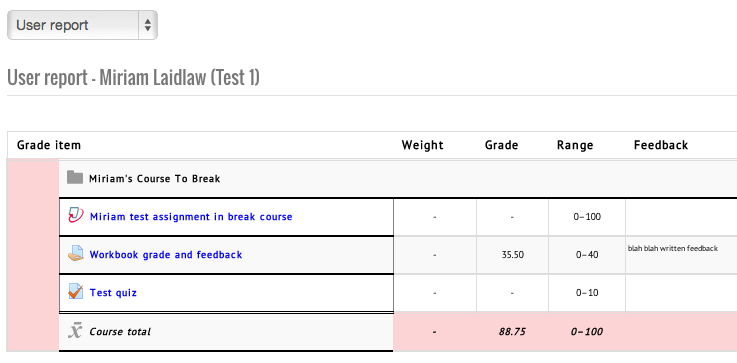 Teachers, to see individual user reports:
On the right, select the student you would like to view from the drop down menu labelled "Select all or one user"
Groups - Adding/removing groups from groupings
Once you have created your groupings and your groups, you need to assign groups to groupings.
Removing groups follows the same process, but instead of selecting the group from the right hand list and clicking "Add", you select it from the left hand list and click "Remove".
Groups - Adding/removing users from groups
Groups - Creating groups
Click "Create a group"
Click "Save"
Repeat to create as many groups as you would like.
Auto create groups
Click "Auto-create groups"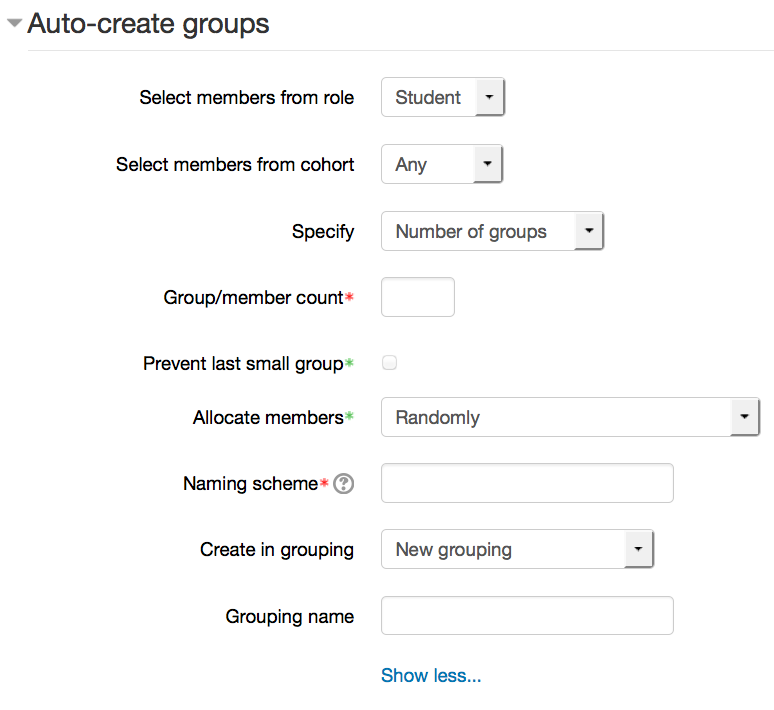 Select members from role - The members of your group will be selected from the pool of students by default. If you want to include teachers and students in the auto-creation, change this to "All".
Select members from cohort - Only site administrators should see this setting.
Specify - number of groups or members per group - do you want to break the class up into a specific number of groups, or by the number of people per group?
Group/member count - this field is required and is linked to the previous setting. i.e. If you want your students split into 3 groups, put 3 in here and have "number of groups" for the previous setting.
Prevent last small group - If there are not the right numbers to make even groups, often one group will be created that is smaller than the rest. Checking this will distribute those students amongst the existing groups instead, even if it pushes the numbers above the ones you specified for maximum members in a group.
Allocate members - your options are randomly, alphabetically by first name last name, alphabetically by last name first name, alphabetically by ID number.
Naming scheme - The at symbol (@) may be used to create groups with names containing letters. For example Group @ will generate groups named Group A, Group B, Group C, ...
The hash symbol (#) may be used to create groups with names containing numbers. For example Group # will generate groups named Group 1, Group 2, Group 3, ...